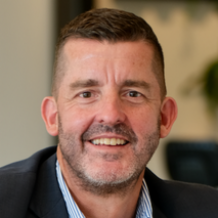 Sean Bailey
Consultant/Facilitator/Coach, Canterbury
Sean Bailey is a former school Principal who is now a qualified executive and organisational coach, working with leaders across New Zealand. He uses the highly recognised ICF coaching framework, along with his robust educational leadership experience, to empower people and maximise their personal and professional potential.
Sean's coaching and mentoring skills enable him to work with employees across large and small organisations, both remotely and face-to-face.
Sean utilises his leadership experience to collaborate with leaders and teams to strengthen their vision, values and practices, ensuring they are lived out and integrated across all facets of an organisation.
He enjoys delivering practical and value-added leadership programmes, specifically focusing on leadership wellness and sustainable practice. These programmes result in a genuine return on investment through increased engagement and visible growth and development of leaders and teams.
Having been on a number of boards, Sean has a passion and interest in strategic planning and implementation. He thrives on working with leadership teams to develop robust and futuristic strategic plans, based on the needs of an organisation.
Sean is a certified DiSC trainer and uses this effective tool with companies and organisations to improve communication skills for individuals, teams, and leaders.
Underpinning Sean's practice are strong values that ensure a great deal of respect and trust are demonstrated throughout all programmes he delivers.
Sean is results-driven and ensures that the clients he works with are provided with the highest level of support. He works hard to develop long-term relationships. As an outcome, powerful connections are established and maintained.
Qualifications and Accreditations
Postgraduate Diploma in Educational Leadership
Bachelor of Education
Diploma in Teaching
International Coaching Federation Certificate in Executive and Organisational Coaching
DiSC Trainer Certification