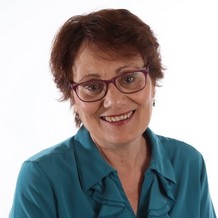 Christine Harding
Coach, Waikato
Utilising her coaching and professional supervision skills and tools, Christine seeks to support growth and sustainability in leaders. Using a strengths-based approach, she uses powerful conversations to draw out and partner with people to reach goals and develop sustainable leadership skills and practices in the process. She is a very good listener; having worked in 'people-caring' professions for 45 years, she is not surprised by much!
She has a variety of leadership experience spanning more than 20 years – motivating, developing and leading teams. She also brings expertise in intercultural competency coaching, group coaching, coaching through transitions, mentor coaching, workshop facilitation and professional coach supervision.
To her practise, Chris brings life experience in cross-cultural living (10 years living in Asia) and leadership, a nursing background and the national leadership of a not-for-profit for nine years. She is also a Presbyterian minister with senior leadership experience.
With a passion to leave the world a better place, Chris is involved with a variety of initiatives in her local community in Hamilton, and is also committed to several pro-bono coaching projects, investing in leaders in the education sector and in developing leadership in young people.
While her coaching scope is wide-ranging but tailor-made to her client, her main areas of passion are supporting sustainable leadership and leadership development; and celebrating diversity while championing inclusivity, with particular interest in the intercultural space.
She is energised by seeing people move forward, growing through challenge and seeing transformation in their lives.
Qualifications and Accreditations
Master of Theology
Post Graduate Certificate in Professional Supervision
Professional Certified Coach (PCC) - International Coach Federation
Certified Mentor Coach and Coach Trainer
Intercultural Intelligence Foundational Stage 2 Practitioner
Certificate of Developmental Coaching
Everything DiSC Certified Trainer