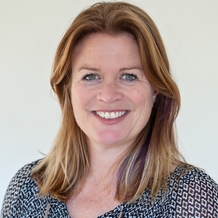 Kathryn Jackson
Facilitator/Coach, Nelson
Kathryn is a Leadership Coach, specialising in working with managers and leaders to design and create confidence, career success and resilience – and then helping them to understand how to support their team in achieving the same.
She is an experienced 'people professional' with over 25 years in the corporate and coaching environment including roles in HR, recruitment and consulting with Andersen's, the Royal Bank of Scotland, and Bank of Scotland.
Her coaching approach is highly pragmatic and tailored to the personal learning styles and the goal(s) of her clients. Using a strengths-based, solutions-focused behavioural approach, she combines coaching and consulting tools to support her client needs. Sessions and workshops are all business-focused and she can support leadership programmes with coaching that targets the results of diagnostics that may have been used, eg Belbin Team Roles, Myers Briggs Type Indicator (MBTI), 360 degree reviews.
Kathryn uses an exceptional career development tool, where appropriate, to help leaders and their teams to create and implement development plans that reflect Motivators, Talents and Values – thereby building engagement and retention at work.
Because she has been a manager, in addition to working with HR teams where she was responsible for leadership development, she has a good understanding of the real-life challenges that come with ensuring business needs are met, while also motivating, leading and developing individual team members.
The following are examples of areas where Kathryn can bring particular value to leadership coaching discussions:
How do I achieve my own personal development plan?
Conducting a good development conversation at work
How to be a good coach or mentor in the workplace
What can I do to create better work-life balance?
Managing a high performing team or individual
How to motivate my team without money
How can I prepare for my next career move?
As well as being very committed to her own professional development, Kathryn has published three books – How to Keep your Cool if you Lose your Job, Essential Questions to GROW your Team (currently a recommended reading resource at the Henley School of Management, UK), and most recently, Resilience at Work: Practical Tools for Career Success (finalist for Best International Business Book in the Business Book Awards, London and the Australian Career Book Awards).
Qualifications and Accreditations
Master of Human Resource Management
Bachelor of Arts Hons (Human Resource Management and Sociology) First Class
Career Coach
Neuro-linguistic Programming (NLP) for Business
Chartered Fellow of the Chartered Institute of Personnel and Development (CIPD)
Coaching Accreditation Programme (Merit), Oxford School of Coaching
Senior Practitioner, European Mentoring and Coaching Council (EMCC)
Associate for the New Zealand Institute of Wellbeing and Resilience