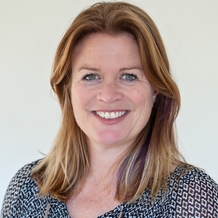 Kathryn Jackson
Facilitator/Coach, Nelson
Kathryn is a leadership coach, specialising in working with managers and leaders to design and create confidence, career success and resilience – and then helping them to understand how to support their team in achieving the same.
She is an experienced 'people professional' with over 25 years in the corporate and coaching environment including roles in HR, recruitment and consulting with Andersen's, the Royal Bank of Scotland, and Bank of Scotland.
Her coaching approach is highly pragmatic and tailored to the personal learning styles and the goal(s) of her clients. Using a strengths-based, solutions-focused behavioural approach, she combines coaching and consulting tools to support her client needs.
Coaching sessions and workshops are all business-focused and she can support leadership programmes with coaching that targets the results of diagnostics that may have been used, eg Belbin Team Roles, Myers Briggs Type Indicator (MBTI), 360o reviews.
Kathryn accesses an exceptional career development tool (Crafted Career Programmes), where appropriate, to help leaders and their teams to create and implement development plans that reflect Motivators, Talents and Values – thereby building engagement and retention at work.
Kathryn is committed to building better workplaces and has developed several resources to support this including: 'Essential Questions to GROW your Team', 'Resilience at Work: Practical Tools for Career Success' (finalist for Best International Business Book in the Business Book Awards, London and the Australian Career Book Awards) and most recently 'The Great Recharge' – a series of interactive workshops to inspire more (mostly) good days at work.
Qualifications and Accreditations
Master of Human Resource Management

Bachelor of Arts Hons (Human Resource Management and Sociology) First Class

Chartered Fellow of the Chartered Institute of Personnel and Development (FCIPD)

Coaching Accreditation Programme (Merit), Oxford School of Coaching

Senior Practitioner, European Mentoring and Coaching Council (EMCC)

Career Coach

Neuro-linguistic Programming (NLP) for Business